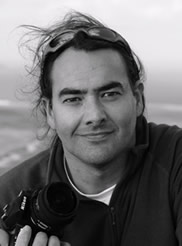 Carlos is an award winning professional underwater photographer that travels around the world in search of the ultimate image. His photographs and articles are published around the world and used in advertising by major international companies, like ATT, WWF and BBC. His award winning images have been used in more than 80 front covers and displayed in museums, art galleries and Aquariums.
In the 90's Carlos left his office job as computer scientist in UK, went to the Caribbean and worked as scuba instructor, dive guide, camera man and photographer, sharing his love for the sea with others through his work and images.
During the last few years Carlos has lived in the Cayman Islands and Australia. Both places are well known for their execelent diving and rich marine life, which has given him the unique opportunity to build up one of the most diverse underwater photo libraries. In his files there are all kind of subjects, from the tiny Pigmy Seahorse to Humpback whales.
Carlos "Dancing with Mantas":
His work and passion for the ocean have taken him to many other exotic locations like Maldives, Indonesia, Palau, Papua New Guinea, the Coral Sea, The Red Sea, Mexico, Tahiti, South Africa, Saudi Arabia, Hawaii... and even the freezing waters of Antarctica. See here the list of destinations where Carlos has been photographing.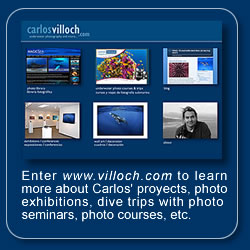 At present he runs the Magic Sea photo library and travels the globe, either on assignment for the most prestigious magazines on the field or looking for new subjects and destinations. He produces hundreds of high quality new images every year and is always seeking a different angle or a new technique that will capture that precise instant of beauty under the ocean surface.
He shares his passion for Underwater Photography through his photo clinics in the best dive destinations. Check out www.viajesfotosub.com for the next trips
Carlos Villoch is available for assignments around the world. His experience, professionalism, the quality of his images and his well travelled character are the perfect combination to make any project successful.
2011 AWARDS
2011 FOTOCAM 1st prize in the Underwater category.
2011 FOTOCAM Special Mention in the Biodiversity category.
2010 Antibes International Underwater Image Festival - Bronze in the Trio category.
2010 Our World Underwater - Bronze prize in the Wide Angle Traditional Category. Chicago, USA.
2009 Our World Underwater - Bronze prize in the Environment & Conservation Category. Chicago, USA
2009 DEEP Indonesia Honorable Mention in the Environment and Conservation category
2008 European Wildlife Photographer of the Year - Germany: 1st prize + Highly Commended in the "Water World" Category
2008 Scuba Diver Austral Asia TTL Photo Competition - MIDE show Kuala Lumpur: 2nd Portfolio
2008 Fotosub Mogan - Gran Canaria - Canary Islands, Spain: 1st Prize
2008 Scuba Diving Photo Contest - USA: 1st Prize in WIde Angle category
Festival Internacional de la Imagen Submarina - Valencia - Spain: 2nd Portfolio
Fotosub Lanzarote - Canary Islands, Spain: 2nd Prize